APPI-Com is a radioconferencing hand-free system (range approx. 1.3mi) for hostile & noisy environments or confined spaces.
FULL-DUPLEX RADIO (CONFERENCE MODE)
The patented technology without base or master (SyncAll patent), in conference mode, allows communicate in a natural way: no need to press a button and wait your turn to speak. The encrypted network is deployed within seconds: APPI-Com automatically identifies the other teamates and starts the conference.
HANDS-FREE
The APPI-Com radio allows professionals to have their hands free to focus on their mission.
SIMPLE AND SECURE
Simplicity: 1 button and 1 connector to deploy the network within seconds and communicate freely with the team.
Safety: includes voluntary "Pager" alert, immobility detection with voice alert, and "SafeLine" function to know in real time who is connected.
NETWORK EXTENSION
Connect APPI-Com (via Bluetooth or wire) to any communication device to extend the range or share the conversation.
CONFIDENTIALITY
APPI-Com deploys a autonomous coded network within seconds, without any installation.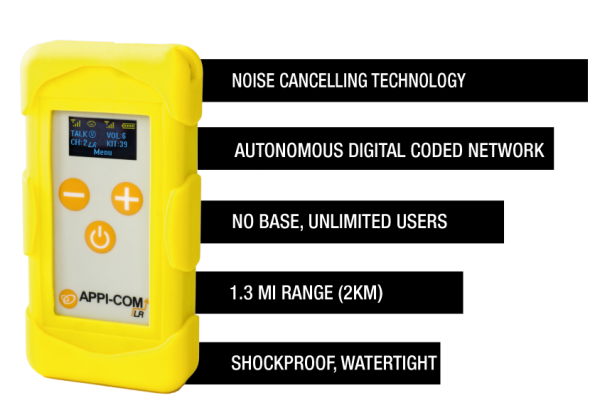 When a 300m range
is enough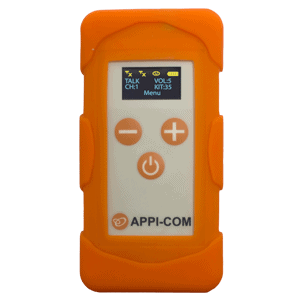 RANGE : Up to 300 m
CHANNELS : 4
CERTIFICATION : CE
SAFETY (LWP) : Option
Potentially explosive
environment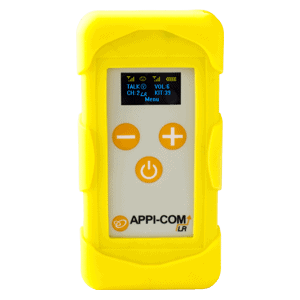 RANGE : Up to 2000 m
CHANNELS : 16/19 depends on country
CERTIFICATION : CE, FCC, Other
SAFETY (LWP) : Option
Power and flexibility
for all applications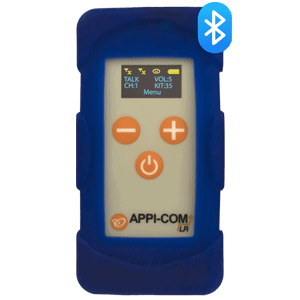 RANGE : Up to 2000 m
CHANNELS : 16/19 depends on country
CERTIFICATION : CE, FCC, Other
SAFETY (LWP) : Option