APPI-Com: Radio-conference for mobile team
APPI-Com is a Long Range Wireless Intercom (around 3800m) for professionals, for the whole team: from 2 to 10 people… or more!
Bluetooth connectivity, small size and great ease of use makes it the product not only suited for professionals but also for sports enthusiasts and recreationists.
APPI-Com radios allow for a natural conversation despite physical obstacles (walls, floors, etc.), and despite protective equipment being worn..
The digitally coded wireless network is deployed within seconds, on a license-free radio band permiting the use of APPI-Com radios practically anywhere and independently:
LWP and Hands-free radio, Anywhere and Anytime!
From common and familiar places to extreme work environments, APPI-Com with its water-tight IP67 shell, and its colored protective silicon covers can even be customized to match your style or work regulations!

APPI products are designed and manufactured in France. Patents are filed in France and abroad
FULL-DUPLEX RADIO (CONFERENCE MODE)
APPI-Com's patented radio technology allows communication in a natural way: no need to depress any button and wait your turn to talk, as with common walkie-talkies ! For an unlimited number of team members, the full-duplex conversation takes place in «full conference mode».
The digitally coded network is deployed at the touch of a button: your APPI-Com automatically identifies the other members of your group and starts the conference!
HANDS-FREE
APPI-Com operates in «hands-free» mode, without needing to touch the device to communicate, it may be worn under clothing for extra discretion, attached on a shoulder, or simply clipped to a spare pocket or the belt.
Professionals may finally focus on their objectives and ignore the radio hardware being used – experience a natural conversation in all circumstances!
SIMPLE AND SECURE
Sporting the size of a mere credit card, APPI-Com is not only the most compact in its class, but also the most talented!
Designed to conceal its hi-technology: with a simple push of a button, the digitally coded auto-synchronous network permits a natural conversation in all situations!
Bluetooth connectivity and safety functions for lone workers: built-in "Pager" to alert your teammates, built-in "Safeline" to establish in real time who's connected or not to the "conversation", immobility detection with vocal alerts, just to mention a few.
NETWORK EXTENSION
Connect APPI-Com (via Bluetooth or wired) to any communication device to extend the range or share the conversation.
CONFIDENTIALITY
The APPI-Com system deploys a coded digital radio network. Each APPI-Com kit is identified by a "code" that prohibits another terminal, unless authorized, to listen-in to the conversation.
Terminals from other APPI-Com kits, when placed in "Listen-Only" mode may or may not be authorized to listen-in on the conversation without participating in it.
To ensure optimal confidentiality (special forces, corporations, large groups), a dedicated coding (option "SECURE") can be customised to create "secured groups." This configuration prevents intrusion into the conversation or even even eaves-dropping on any device outside the group!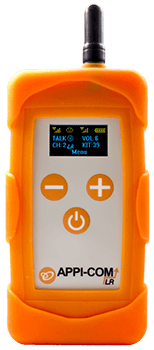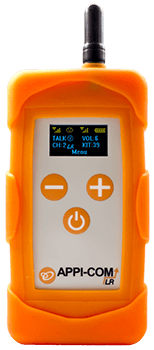 Your business constraints
MULTIPLEX Technology : conference mode WHATEVER THE Number of users
Keep clear communication with 2/5/10 people and move from one team to another: the MULTIPLEX mode gives you the floor for an effective communication.
A UNIQUE AND PATENTED COMMUNICATION SOLUTION
Thanks to SyncAll® technology (international patent), any module in the kit can leave the reception field (signal loss, stop) without altering communication between others, then enter it again, without manipulation: a guarantee of safety and efficiency for the team!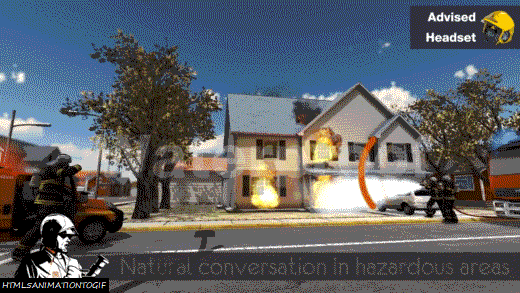 Off network Lone Worker Protection
Immobility: in risk areas, words are not enough. APPI-Com embedded a sensitive electronic motion sensor: the immobility detection produced an audible warning and a voice message to the entire group.
Network connection failure: the Safeline® notify the team in case of disconnection.
User-activated alerts: Embedded pager to call attention at your team.
You want to automatically relay your alerts on the GSM network? Discover APPI-Smart.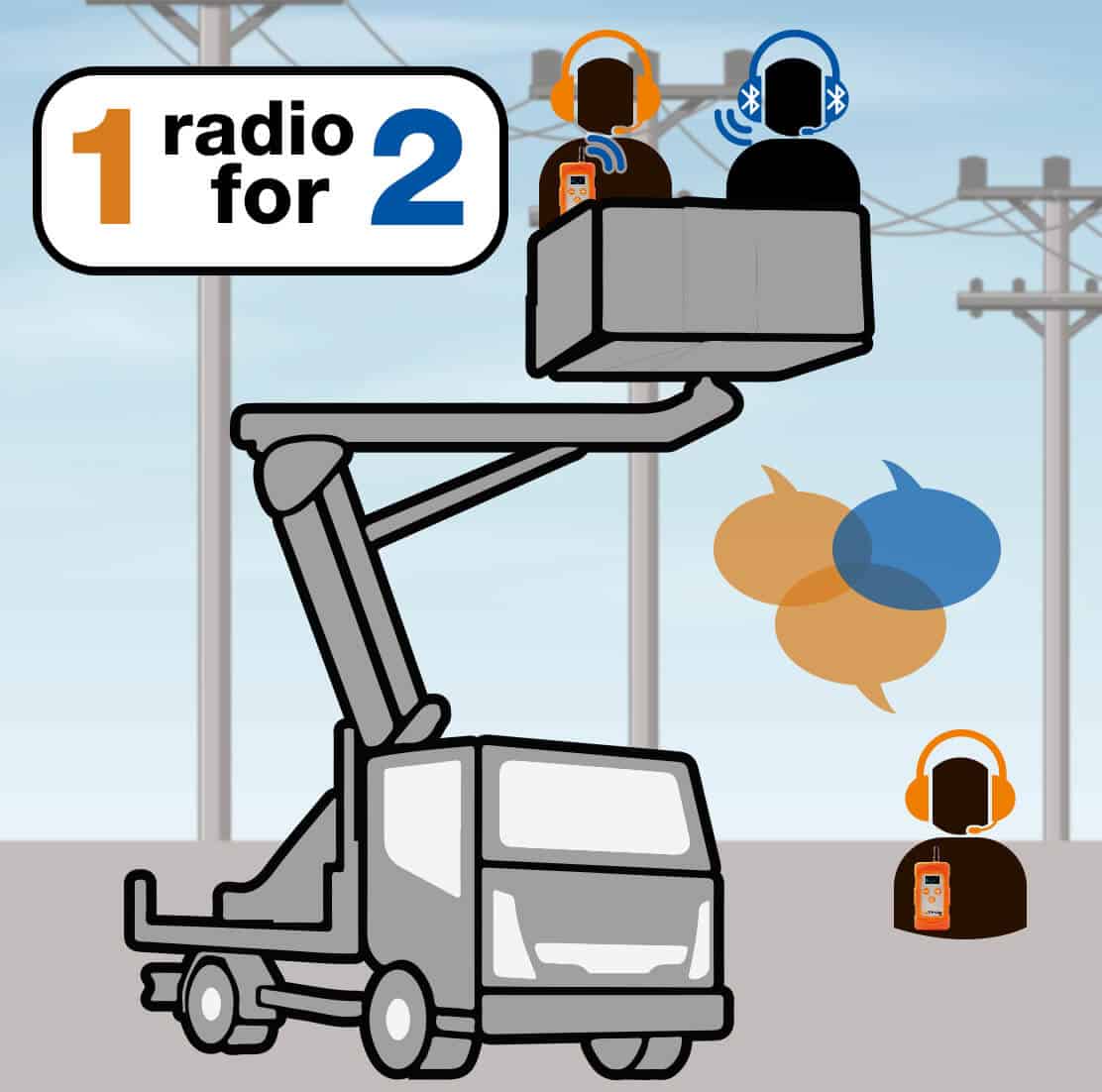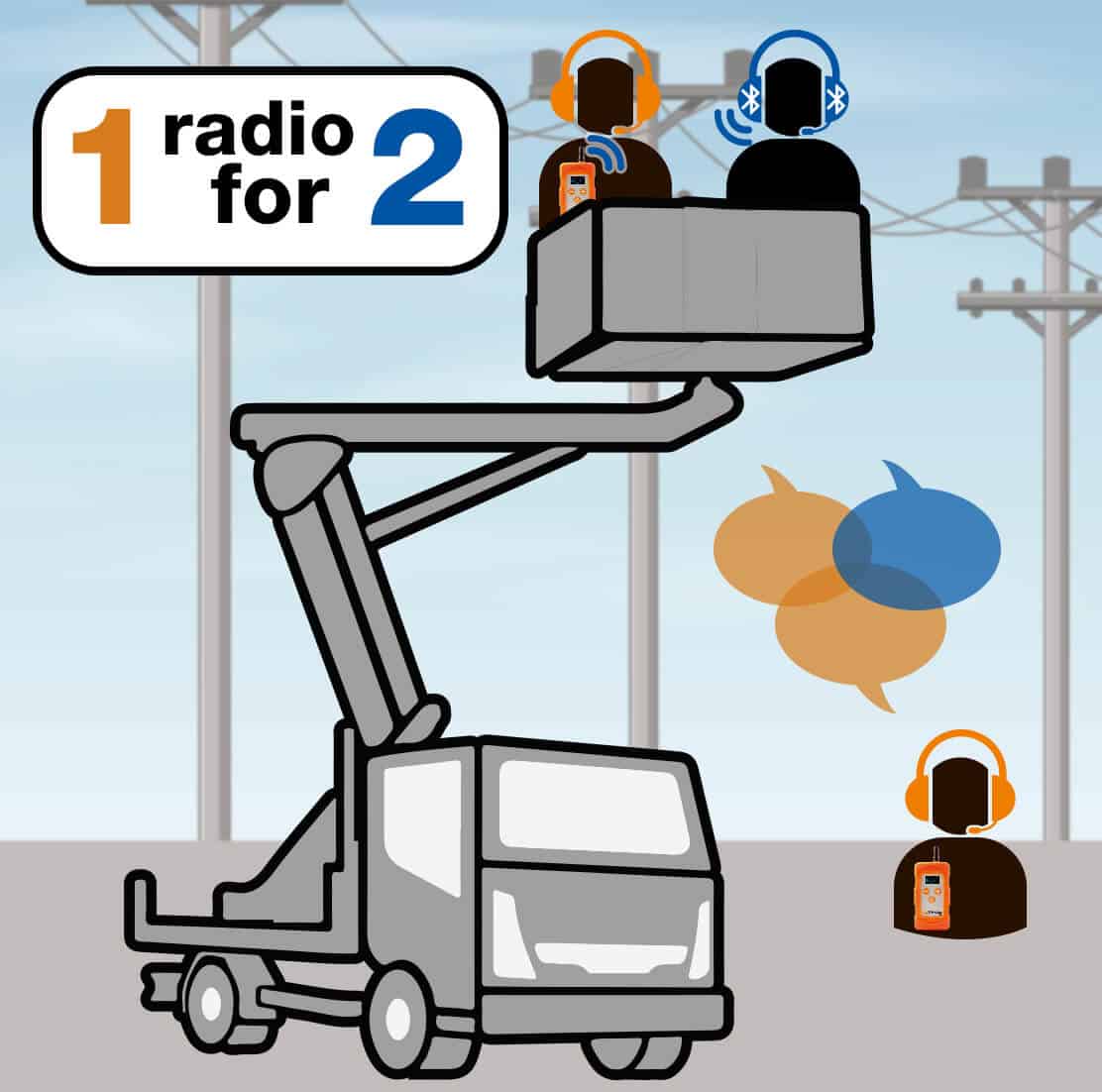 Patent pending
Share your APPI-Com by connecting two headsets to one single radio: wired for one and Bluetooth for the other (Bluetooth headset required).


BT pairing your APPI-Com with your phone.
Public mode: answer your call with your APPI-Com and/or conference-in your correspondant in the group.
Private mode: prevent the other teamates to listen to your conversation.
Safety: auto-answering can be enabled/disabled.
Link several teams: an APPI-Com team can phone call an other APPI-Com team!
When a 300m range
is enough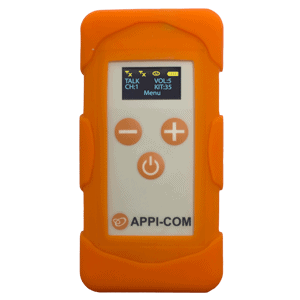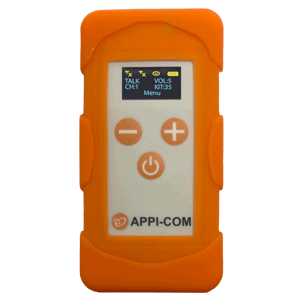 RANGE : Up to 300 m
CHANNELS : 4
CERTIFICATION : CE
SAFETY (LWP) : included
Potentially explosive
environment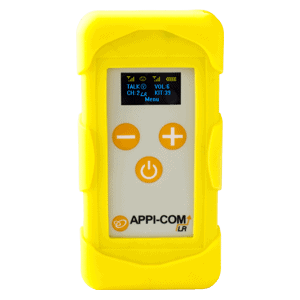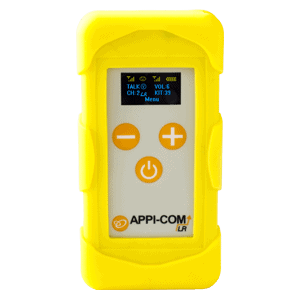 RANGE : Up to 3800m
CHANNELS : 19/32 depends on country
CERTIFICATION : CE, FCC, Other
SAFETY (LWP) : included
Power and flexibility
for all applications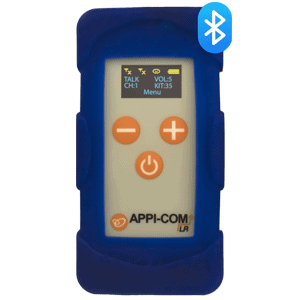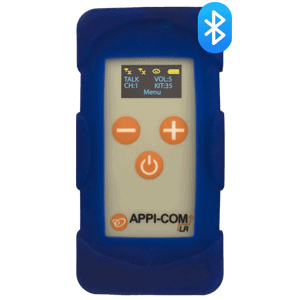 RANGE : Up to 3800m
CHANNELS : 19/32 depends on country
CERTIFICATION : CE, FCC, Other
SAFETY (LWP) : included
TALK WITH ONE OF OUR
experts

TODAY.
+33 9 83 98 68 73
From Mon. to Fri. 9am to 12pm and 2pm to 6pm
Questions about APPI-COM?
How can we help you?